Association football or simply, football, is a great sport and loved by many people throughout the world. It is a sport which has so many fans that every large event attracts the attention of bookmakers and people throughout the world. Some fans prefer their own local leagues and clubs while others pay attention to everything that's going on in the world. More often than not, some club comes to the international scene and manages to surprise everyone.
Fans love all competitions and looking towards Africa and the Africa Cup of Nations is a great way of finding new stars.
Africa Cup of Nations – A Brief History
The Africa Cup of Nations is a biannual event with some exceptions, due to it possibly clashing with other large events such as the FIFA World Cup or UEFA European Football Championship. Its inception was in 1957 and to this day, it remains the most coveted football event in Africa.
National teams compete for the title of champion, provided that they qualify. There is, of course, a qualification round. 48 countries, divided into groups of 4, compete to get the top 2 spots in each group. The final 24 countries go on to the main event. The main event also has a group stage, 4 teams divided into 6 groups. It is a single match group stage, with the top 2 teams from every group advancing to the quarter-finals, as well as the top 4 third place teams.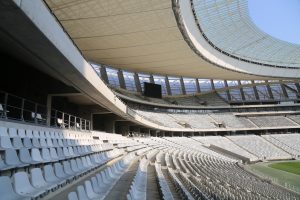 The Current Champions and the Countries with Most Titles
CAN has had many champions through its existence, Egypt being the country with the most titles, 7 of them. Following closely with 5 titles is Cameroon, the defending champion. Following them is Ghana with 4 titles, two of which were won in the 60s and the latter two in 1978 and 1982. Ghana is also the country with the most finals appearances, 9 of them in total.
Nigeria has 3 titles and Ivory Coast and DR Congo 2 each.
2019 Africa Cup of Nations
The 2019 CAN will take place in Egypt, across 6 venues. It will also be the first CAN to have video-assisted referees or VAR. It will be used from the quarter-finals and onwards. The groups have already been drawn and the tournament is to take place from June 21 to July 19. It will be one of the best events of the year, attracting fans from all over the world, especially due to the tournament's host country, Egypt.
The Africa Cup of Nations is the continent's most prestigious association football tournament where 24 countries compete for the title of champion. Ever since 1957, it has been quite the attraction, for fans, sponsors, and the athletes themselves.